DS800W is 8-bay storage tower high performance USB 3.0 and eSATA interfaces. The device is backward compatible with USB 2.0, which can be used in the absence of USB 3.0 or eSATA. DS500W has a built-in RAID engine embedded within the enclosure performing all data parity calculation to reduce the CPU utilization from the host and eliminating the needs for a separate controller cards. The built-in RAID supports RAID level 0, 1, 5, 6, 10 and JBOD. It provides redundancy protection against hard drive failures. The new RAID mode N-Way Mirror is used to replicate the saved data throughout all installed hard drives. DS500W features automatic backup, encryption and multi OS friendly – compatible with Windows, Mac OS, and Linux.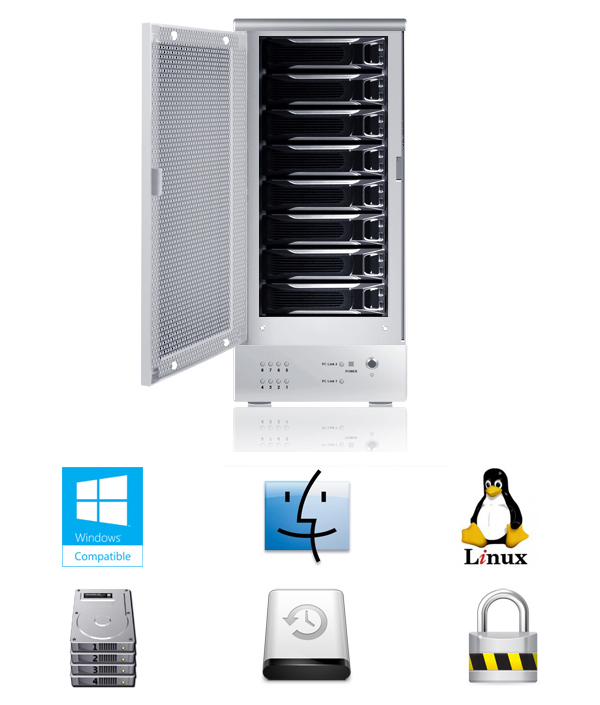 DS800W is bundled with a 2-port latest PCIe x1 eSATA controller with SATA 6Gbps. The unit is backward compatible with PCIe 1.0 to provide eSATA connectivity for hosts that do not have built-in eSATA ports.
Supports RAID 0, 1, 10, 5, JBOD, Clone and hot spare drive
eSATA and USB 3.0 interface (USB 2.0 compatible)
Bundled SATA 6.0Gbps latest PCIe x1 controller card
Built-in hardware RAID within the machine, no driver and no additional RAID controller required.
Supports SATA 3.5" and 2.5" HDD and SSD
Automatic insertion / removal detection and rebuild.
Compact and stylish with protective ventitating cover.
Chasis
Tower
Storage
HDD Slots: 8 hot-swappable 3.5" or 2.5" with enclosure
RAID Level: 0, 1, 10, 5, Clone with hot-spare and JBOD
Auto-Rebuild: Yes
Hot Spare: Yes
Host Interface: USB 3.0 and eSATA
Drive Interface: SATA
SSD Support: Yes
OS Support
Windows, Linux, Mac OS
Dimension (in)
5.9" (W) x 13.4" (H) x 13.5" (D)
Power Supply
300W (Dual Voltage)
Color
Black / White
Warranty
Based on contract